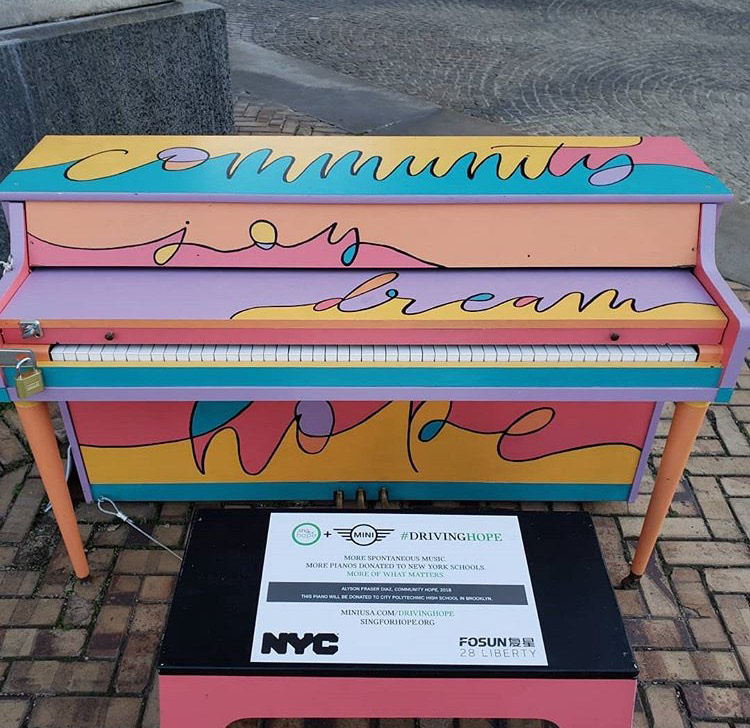 Earlier this year I was chosen as a Sing for Hope Piano Artist.  Sing for Hope is a Non-Profit organization based in New York City  whose Mission is to empower people through the arts. They run a multitude of programs including partnering with Healthcare facilities to provide music therapy as well as in school programs for youth. One of their most well known projects is the Sing For Hope Pianos! Every year they select around 100 artist to paint pianos. The pianos are then dispersed through the 5 boroughs and put in the community so that anyone can stop by and play it. Later the pianos were placed at school sites. 
My proposal for the piano was so to create a piano that evoked positive feelings and triggered happy memories and thoughts. My goal was to remind people of all the amazing intangible things we can hold on to even when life gets rough. ( See first image for my proposed design). 
My Piano was placed at Grand Army Plaza and it was great to see people playing on the piano from little kids to older folks. I also really enjoyed seeing people share pictures and videos of my piano on social media about how the piano brightened their day. Not everyone who loves music can own their own piano and I love that this project makes music accessible to everyone. 
The Piano is now permanently at City Polytechnic High School in Brooklyn. 
Learn more about Sing for Hope here.